Rockcastle County, Kentucky, named for the Rockcastle River which runs through it, was founded in 1810. The county contains just over 318 square miles and has a population of just over 16,500 people.
Rockcastle County has the Great Saltpetre Cave, the Bennett Hiatt Log House, the John Lair House and Stables and the Mount Vernon Commercial District on the National Register of Historic Places.
Cities and Towns in Rockcastle County:
Address of the Rockcastle County Courthouse:
Rockcastle County Courthouse
205 East Main Street
Mt. Vernon, KY 40456
Rockcastle County Official Website
Rockcastle County Chamber of Commerce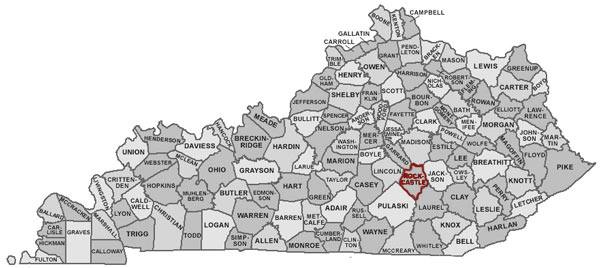 Interesting Facts about Rockcastle County:
Rockcastle County is the home of the Kentucky Music Hall of Fame and Museum and Renfro Valley Barn Dance (a pioneer in early radio broadcasts since 1939 which still offers nationally ranked performances of Country, Bluegrass, and Gospel music throughout the year.)
Livingston is the gateway to the Daniel Boone National Forest trail system, the Rockcastle River offers whitewater rapids for those who dare, and there are guided cave tours which provide lights and gear. Camping, hiking, horseback riding and the beauty of Anglin Falls in the John B. Stephenson Memorial Forest are also available to visitors and residents of Rockcastle County.