Boyle County, Kentucky was formed in 1842. The county seat is Danville, with a population of just over 28,000. The County was named for John Boyle, a Chief Justice of the Kentucky Court of Appeals and US. Representative. Boyle County contains 183 square miles of land in the geographic center of the state of Kentucky.
Special Features of Boyle County:
Centre College, a nationally recognized private liberal arts college
Perryville Battlefield
Constitution Square
McDowell House Museum
Penn's Store
The Forkland Community Center
Many private residences and historic places on the National Register of Historic Places
Borders Herrington Lake, the oldest and deepest man-made lake in the state.
Cities and Towns in Boyle County:
Perryville
Junction City
Forkland
Mitchelsburg
Parksville
Atoka
Address of the Boyle County Courthouse:
Boyle County Courthouse
321 W. Main Street
Danville, KY 40422
Boyle County Official Website
Danville-Boyle County Chamber of Commerce
Interesting Facts About Boyle County: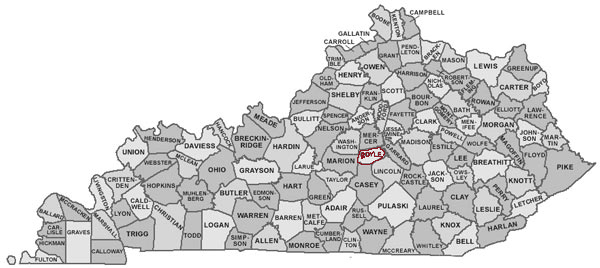 Danville, in Boyle County, hosted the Vice-Presidential debates in 2000 and in 2012. Boyle County was also the filming location for several major motion-picture films including: Raintree County (Starring Elizabeth Taylor), Treasure of Matecumbe, and Child of Glass, a Walt Disney movie. The TV Series The first 48, used Boyle County as a location in the episode Hale Storm in 2010.